Public transport can be a little bit of a chicken-and-egg problem. If there isn't useful public transport nobody is willing to use it and if nobody is willing to use it there won't be useful public transport. This is certainly one of the reasons we depend on our cars for pretty much anything in New Tecumseth.
A bus by citizens for citizens
I was born and raised in Germany where public transport is generally quite useful and in some areas even the quicker and more convenient mode of transport. And in areas less dense, where public transit coverage is lacking, you can sometimes find what is called a Bürgerbus (German for "citizen bus"). It usually comes in the shape of a minibus with 8 passenger seats and is primarily used by people to access shops, supermarkets and medical facilities. While this bus usually ties in with the broader transit system it is unlike any of the buses servicing the main routes. Mostly because it is operated by volunteers from the community who take on driving duties in shifts of four hours at a time. A typical day would have two shifts. Costs for purchasing, maintaining and operating the vehicle are covered through ride fares and sponsorships from local businesses.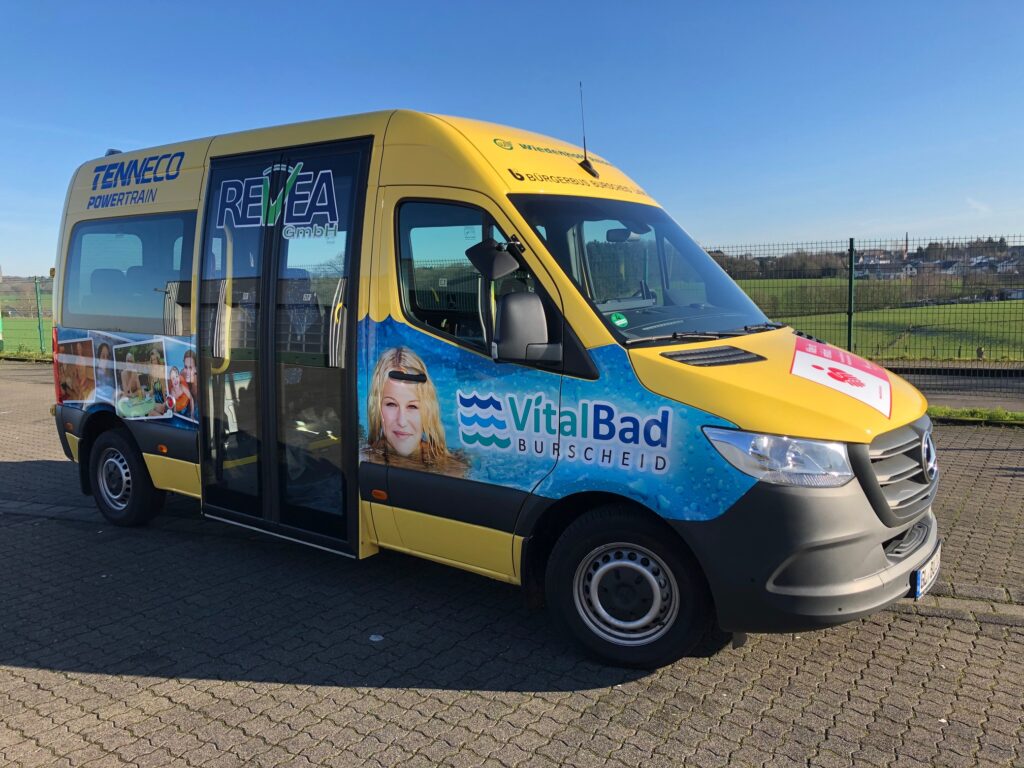 Accessible and affordable
Fares are very accessible. On the Bürgerbus it is 1.50€ ($2.00 at the time of writing) to ride between any two points on the route and a round trip takes about 14 minutes. In areas where demand is lower riders are asked to call 15 minutes in advance to let the bus driver know they would like to use the service. That way stops that are more of a detour can be skipped on each round trip where service is not required, saving time and gas.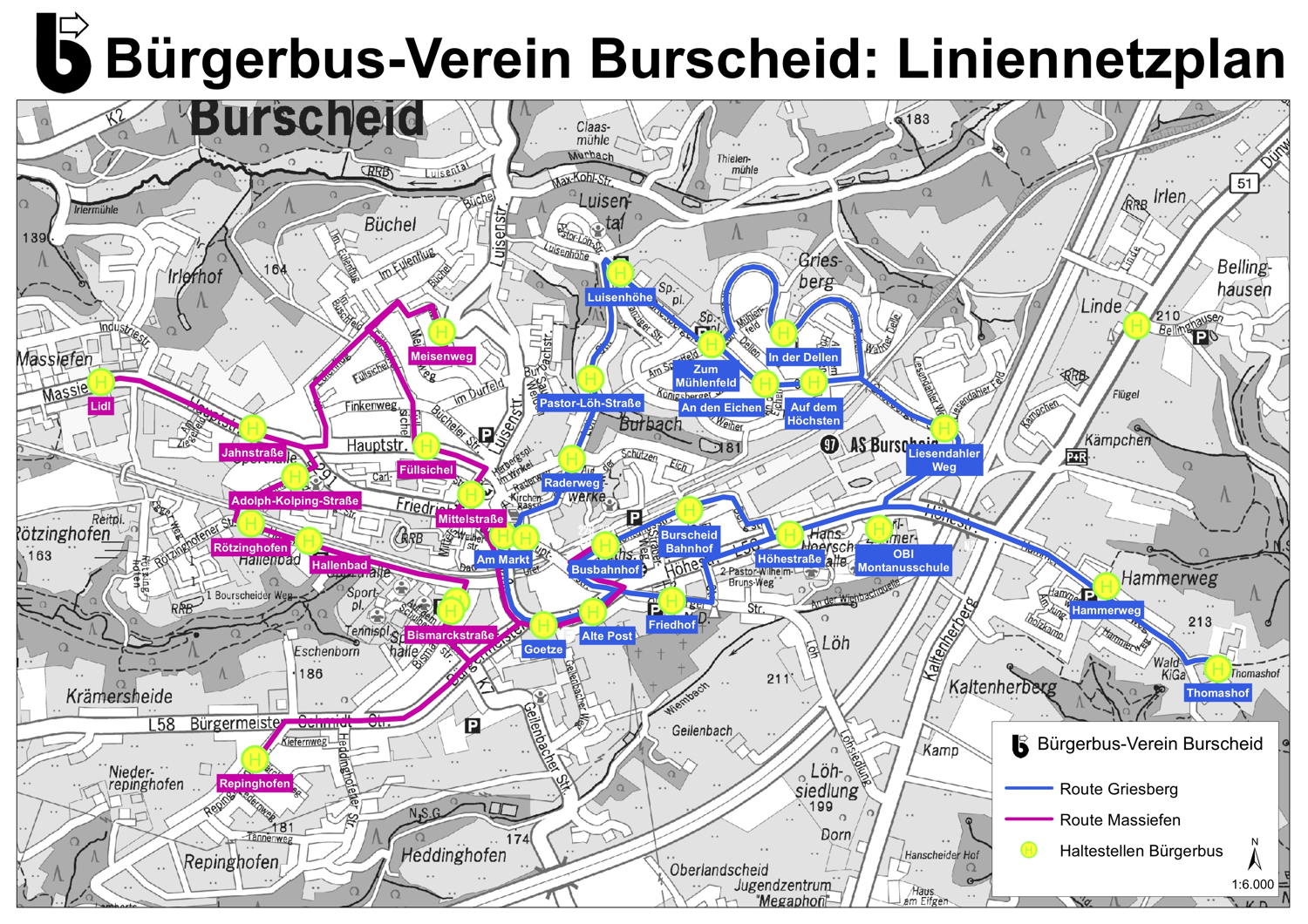 The current route covers most of the more densely populated areas but also has some strategic stops at supermarkets, transit interconnection points and retirement communities.
And while within our communities places are to a limited degree walkable for some people there still is a rather weak link between each of the towns and to the main shopping and dining areas, a situation that is a direct result of the way the towns were developed in the past 30 years.
Citizen supported transit could be one way to create a convenient and useful mode of transportation for some and a lifeline into the community for others. Data gathered from trips taken on citizen supported transit could also help inform planning for potential municipal or county transit systems to come in the future.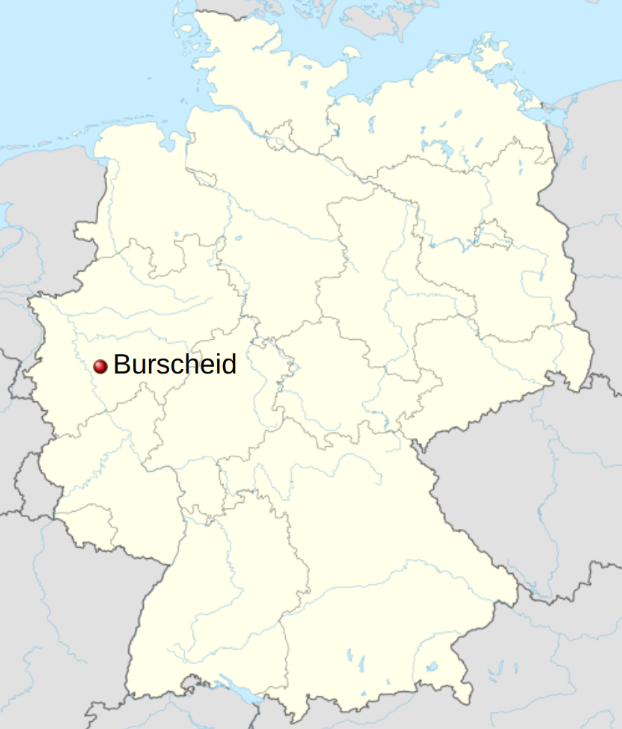 Background on Burscheid, Germany
Burscheid is located in western Germany close to the cities of Cologne and Düsseldorf. In many ways it is very similar to New Tecumseth. It has a similar kind of "rurban" set-up with two denser population centres and a handful of smaller surrounding towns and hamlets. It has a population of roughly 19,000 (New Tec has about 2.5 times that: 44,000) spread out over an area of 27.33 km² (New Tec has almost exactly ten times that: 274.21 km²). In terms of population density it is about 4 times more densely populated than New Tecumseth (680 per km² vs. 160.5 per km²)
What do you think?
I would like to hear your thoughts on this? Is this a system you think could work for our town? Would you use a service like this? Let me know in the comments below.